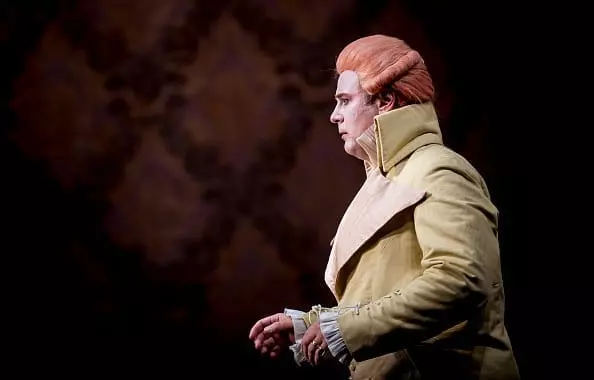 For the first time in my life, I find myself a homebody for the immediate future. This is the quarantine life, my friends, and we're practicing health, safety, and responsibility by staying inside and preventing COVID-19 from spreading. So, with our civic duty behind us, what do we do as opera singers to benefit from this time at home and continue the progression as a musician? Here are my suggestions!
1. Fine tune a role
Pick your most performed role and go back, play your vocal part at the piano strictly in time without much rubato. I do this from time to time with my most performed roles, because my musical ideas can get redundant, and I look over the details of the score I might have forgotten over time. There is always something to learn, so this is a quick way to refine what you already know.
2. Record Yourself
This is my most valuable tool to performing. Try both, just audio so you can focus on the quality of your sound, and video so you can evaluate your total performance and criticize yourself. Take notes: what works, what doesn't, what isn't as clear as you thought it was, what looks unconvincing, etc. If you don't believe your performance, most likely others won't either. You have a developed ear and a critical eye, so use that to your own advantage and become your own coach. The thing is, this can take a lot of time, so now is your chance!
3. Lip Trills
Especially if you've got thin walls, lips trills are an amazing vocal exercise. I do them just about everyday. They let me in on what's happening with my support because if your support isn't engaged, you can't do a lip trill. For a more extensive look into lip trill technique, check out my entire vocal warm-up routine:
4. Watch Lots of Opera
Now is the time to watch the greats and study what they do. YouTube is a treasure trove for opera! Dust off those opera DVDs. Currently the Met is streaming their productions nightly for free online. Livestream recitals are happening a lot now, so you get to see artists up close and personal. Listen to how they phrase a melody, how they use their vibrato, their gestures, their composure, etc. and see what you can learn.
For those wondering, here's my livestream recital:
5. Research
Give opera programs, festivals, opera companies, management teams, etc. a good dose of research in order to see if any would be a good option for you. If you're interested in working in these places and aren't getting hired, take a look at which singers they in fact are hiring. This will help give you an idea of what these programs/agents are looking for in singers, where you can make improvements, and possibly help you fill some resume holes. It can also be useful to research what programs, companies, and management certain singers have worked with in the past—their first stepping stones may inspire new avenues and you might discover opportunities you hadn't thought of before.
6. Participate in a Social Media Challenge
Whether it's #AriaHandwashing, #LaSperanza, or #SongsOfComfort, put your music out there on the internet. The majority of people are at home so we are craving content. Most likely, now we will have time to watch your videos and if you use these hashtags, your music will have a better chance of being heard. Plus it's fun!
7. Set Social Media/News Limits
I make a rule to check Facebook once in the morning and once at night, simply for the essential news and no more. Personally, I can easily get sucked into silly videos and political debates that in the end bring my morale down and suck the life out of me. Instagram inspires me more so I find myself checking there a few times per day. News can also get depressing so again, I turn it on once or twice a day.
Stay Connected – On the note of limiting your social media, foster your relationships by contacting and connecting with your friends and loved ones. You can even go so far as to write to former music instructors, singers whom you look up to, and other people who've made a difference in your life. Don't isolate yourself fully, and instead take the time to reconnect with others who are in the same situation as you—at home, most likely anxious, and with lots of time on their hands. I promise it will be immensely fulfilling.
8. Network
Since we all have less on our plates, now is a perfect time to write an email to your list of connections in the opera biz. Send an update on what you've been up to the past 6 months/year and what you have coming up. Wish them well and be genuine about it. The opera world is still going forward.
9. Be Physical
This helps get your energy level up and activates those endorphins. It also helps to motivate you to practice and accomplish a lot more. We all could use a pick me up from time to time and getting out your yoga mat or pumping some iron might do the trick.
10. Brand Makeover
Creating your brand takes time. Things like starting a newsletter, building your website, updating your bio, creating a Facebook page, etc. are so important to your career, so if you haven't done this yet—or haven't updated your brand in a while—it's time to get to it! Your online presence matters and if by chance a casting director Googles you, you want everything to be fresh, clean, up-to-date, and representative of you as an artist. If you don't know where to start, research examples of in-demand singers and even contact a digital media firm.
These are things I am actually doing to challenge myself and stay busy during these days of quarantine. I hope these suggestions will help you focus on your goals and stay productive as a singer to achieve some amount of progress and improvement while we isolate ourselves and practice social distancing. Singing is a social activity and we're not totally deprived here, so let's get to it and better ourselves with this gift of time.
And in the meantime, I wanted to also acknowledge some of the recent heroes of the opera world—special shoutout to Atlanta Opera's costume department for volunteering their sewing skills to aid healthcare workers, opera companies who are compensating their artists throughout the cancellations, AGMA for starting important workers' discussions, the soloist coalition, and artists for livestreaming their music for us all to enjoy during this trying time.
Stay safe and healthy, everyone!
---
What do you think? Did you find this article interesting, entertaining, or helpful? Feel free to chime in with a comment below.