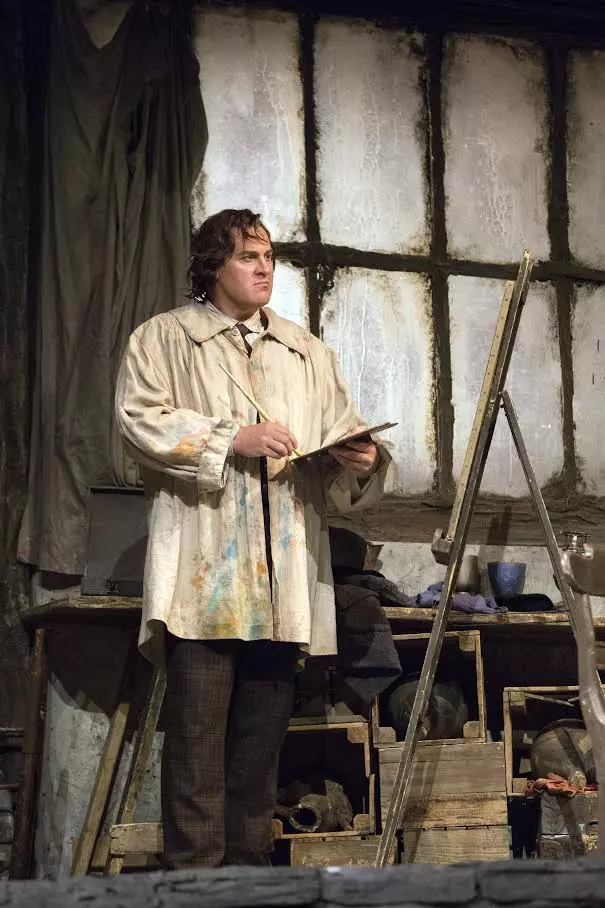 As the curtain parts, we see two Bohemians busy at work in their run-down Parisian loft. Rodolfo writes. Marcello paints his Red Sea. They have little means, but an artistically rich life. Though this opera is a love story, the loyalty between Rodolfo and Marcello is steadfast throughout, and serves as the premise of many special moments of the opera.
Who is Marcello?
This surly, firecracker of a guy has a quick temper but a heart of gold. He's very passionate. He picks a side quickly and defends it wholeheartedly. Sometimes, he's so passionate, it's almost to a fault.
He and his bestie Rodolfo are passionate in similar ways. They think on the same emotional wave-length and their humor is very similar. Their friendship is one of those that when they're around each other, they can just smile and understand one other, but can also give it to each other straight when it's needed.
Marcello's passion is very appealing, but sometimes he can go a bit far. Especially when it comes to his tumultuous relationship with the flirtatious and free, Musetta. Their love is a rollercoaster ride. Their iconic scene at Café Momus is hysterical. Yet, even when they're playing their love games with each other, there's so much undeniable chemistry between them. They complement each other well because they're both spitfires.
I love this quote by Murger (the librettist): "Musetta loves Marcello because he is the only one who can make her suffer." I sometimes like to think that they stay in this love/hate relationship just to help rekindle the fire… if you know what I mean!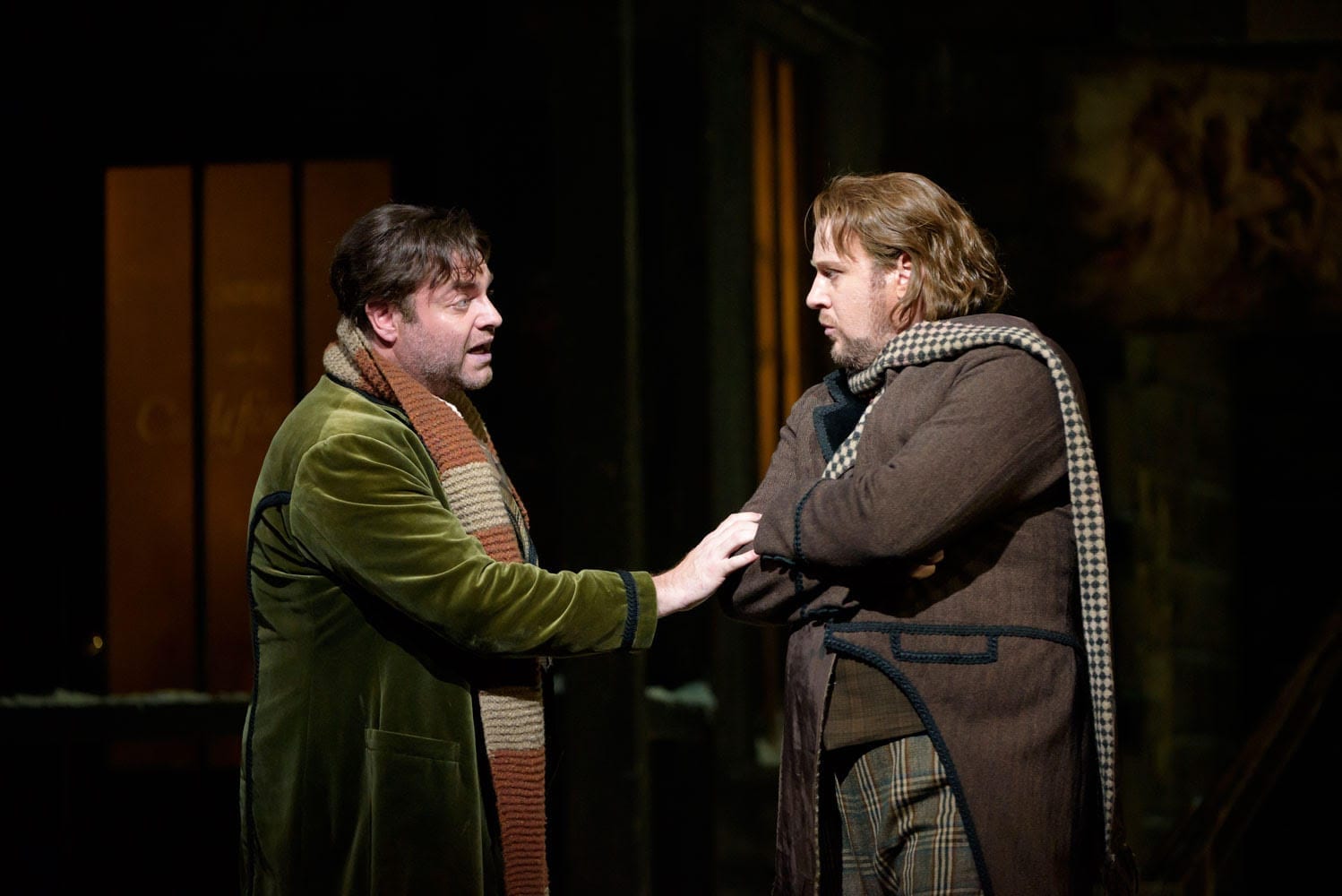 Musetta, la mia sirena
At the beginning of the opera, Marcello feels really down as a result of his recent break-up with Musetta. So he's not necessarily happy that Mimì joined them on a boys night out. Rodolfo and Mimì annoy Marcello without even realizing, as they profess each other's love in such sweet ways. At the time, Marcello views love as an ugly and hurtful thing. He just wants to have a good time with his buds, but then the axe-wound in his heart comes waltzing in.
Marcello feels especially hurt when Musetta sings her sultry "Quando m'en vo." I like to think that this is the song she sings to him in bed after they've made love. It's a shot in the heart for him because it's "their" song. It's not in the libretto, but I use that backstory to invoke a strong reaction out of Marcello.
Musetta is pretty cold-hearted because she'd rather date a rich old man and have a luxurious life, instead of being with the person she truly loves, Marcello (who, unfortunately, happens to be broke). And to add fuel to the fire, Marcello's friends keep picking on him about the breakup! Puccini and Murger's brilliance shines through this scene with each successive: "La commedia è stupenda". Each time one of Marcello's friends says it, he gets more and more pissed off. It starts out lighthearted but they know how to push his buttons.
The scene comes to a climax when Musetta gets rid of Alcindoro and opens her arms for her beloved, Marcello. I just love singing "our" song back to her! By the end of the act, Marcello and Musetta both do away with their respective façades of pretending not to care about one another, and give in.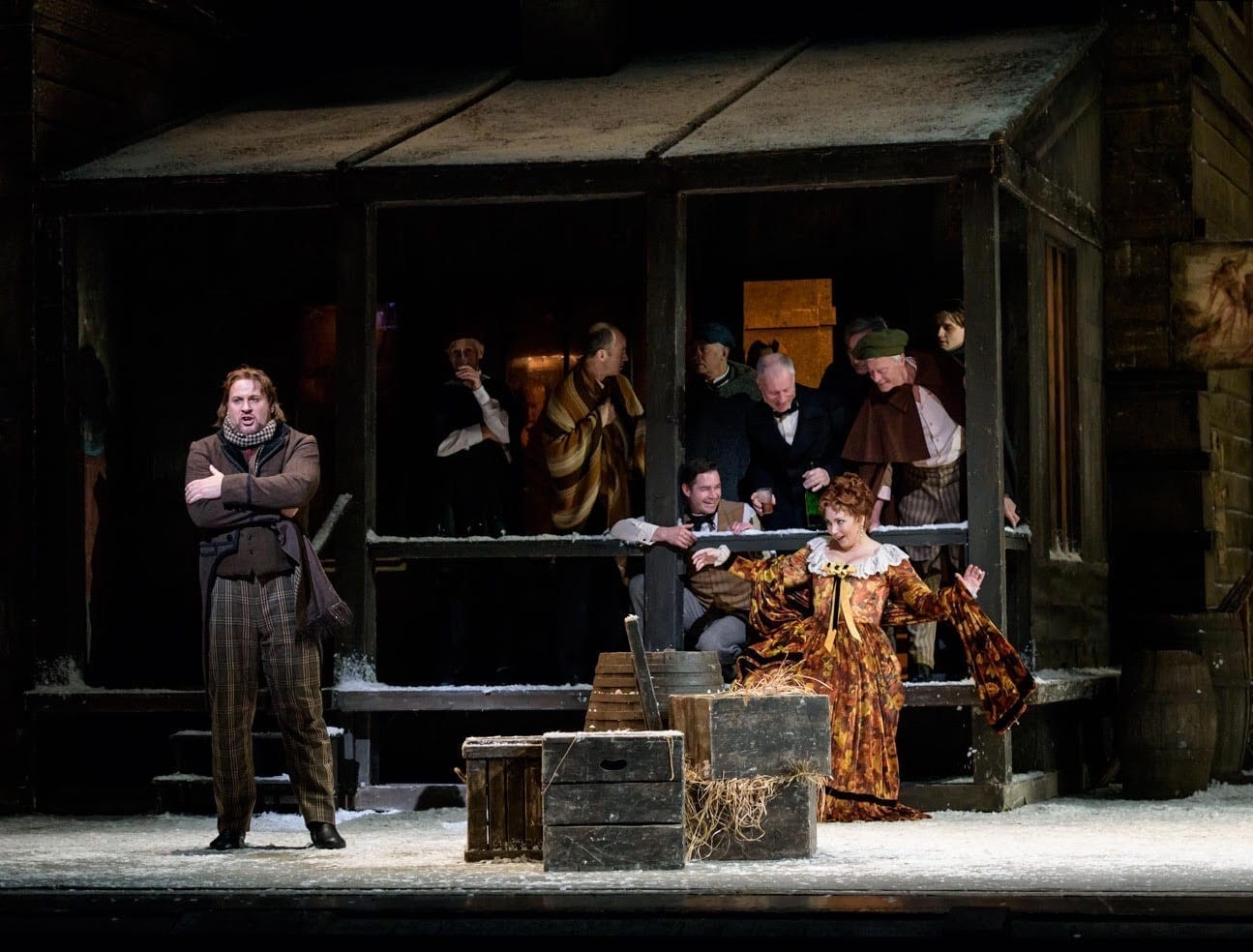 That Mimì, Though
In Act 3, while Musetta and Marcello's fight outside the tavern is exciting, the duet he has with Mimì resonates with me much more.
My personal backstory for this part is that Marcello and Mimì have become close friends and confidants since she began her tenuous relationship with Rodolfo. Marcello really cares for her, so when he sees her on that snowy night, his heart goes out to her.
Creating a backstory for some of these under-defined moments helps clarify my acting choices and makes for a convincing reaction.
I also love the moment when Mimì says, "Rodolfo's sleeping?". It's such a typical and honest response: Mimì doesn't think he should be sleeping at a time like this, since they just had a huge fight and she can't sleep a wink. It's very appropriately verismo. And loyal Marcello has Rodolfo's back, quickly making excuses for him. A true bro moment.
He then says to Mimì "Don't cause a scene", and I believe that Mimì's reaction to this should be that she's pissed off by that remark. When you say that to someone who is upset in real life, it never goes well. They don't calm down. It's just a bad response. That kind of reaction brings a reality to the characters that I cherish.
After Mimì leaves, Rodolfo enters. Marcello tells Rodolfo to get over his petty jealousies—something that, mere moments after, Marcello proves that even he can't do himself. It's tragic that they aren't mature enough to love these good women. Doesn't your heart just sink?
The Best Kind of Friend
This is such an ensemble show. Each singer's performance largely depends on the others. Whether my cast mates are highly reactive or somewhat stoic, I still push myself to focus on the text. That's one of the keys to this role.
These guys are always making fun of each other and as an audience member, it's so fun to see them interact. If, for some reason, I'm not getting a strong enough reaction from a cast mate, I tease them and give them a hard time. Because that's what Marcello would do! This works really well in the context of the show and the energy of the entire group.
Baritones have to be careful when portraying Marcello because they can come off as a jealous jock. With all the joking and messing around he does, his loyalty to his loved ones often gets overlooked. That's what makes this group of friends so great. They're really close to each other: they always split the bacon four ways.
Marcello loves hard. Unfortunately, his other emotions are big, too. Overall, he's a good guy. I try to bring that out more to show a deeper layer to him, because it's so easy to judge him on a surface level. He doesn't live in jealousy, he lives in loyalty.
Who Should Sing Marcello?
Most baritones can sing this role—lyric or dramatic. The only thing is that Marcello tends to have a darker sound than the other baritone role in the show, Schaunard. If you get hired to sing Marcello, definitely do it.
I sang Marcello in a college production, but I sang Schaunard and covered Marcello in my first professional Bohème. I also sang Schaunard's aria in a few auditions even though I got cast as Marcello.
When portraying Marcello, it's important to have the ability to react quickly and honestly on stage, and live in the moment. You have to listen to the other characters closely, or else Marcello can easily become a stock character.
For instance, in the third act, when Marcello confronts Rodolfo about his behavior with Mimì, Rodolfo makes up some lies about her and calls her some horrible names. He then has a change of heart and confesses to Marcello that those were all lies. In fact, he loves Mimì. At this moment, the music changes. It's soul-crushing. Yet, Marcello feels something else. He still feels anger towards Rodolfo for his cruelty towards Mimì. Marcello almost doesn't believe him. So, Marcello's emotion doesn't match the lush music underneath. This is one of those rare moments when the acting choices need to go against the music. Just something I like to think about.
It's a shame that Marcello has no aria, but he does have two extraordinary vocal highlights, one of which being the Act 4 duet with Rodolfo. I love the high note in Marcello's solo line because I get to sing loud and high—my favorite things! I like to milk that note with a drawn-out diminuendo. If you're capable of doing it, perché no?
I get chills a few lines later when Rodolfo and I sing together "En'esce di Musetta". Puccini's orchestral writing all over this opera is so visceral and romantic but this musical line particularly sticks out to me. As a singer, I cover my sound there and add a pleading-quality to my vibrato for some extra color.
The other vocal highlight is Act 2's "Gioventu mia". When those cymbals crash and we're all singing our faces off, it's just amazing. You just gotta sing that part fortissimo AF!
Over The Years
I love singing Marcello. I connect with the character so much because I personally feel very similar to him. He would do anything for his friends. He's overly passionate, and quick to offend. We've got a lot in common! He makes an intriguing operatic character because he's unpredictable. From an audience perspective, that temperament is great fun to watch.
I've gotten the timing of Marcello down to a science and my big beats are covered. For instance, right before Musetta says to cover the flame so that it doesn't blow out, I softly exhale on the flame so that it flickers in the draft. Things like that bring a character to life for me.
This week, I'm singing in the iconic Zeffirelli production at the Met. It's so historic—I see it as the grandfather of the many other productions I've done over the years. That's a total of 8 productions with over 40 performances, so this is a true artistic culmination for me. Many staging ideas were born from this production, so it's a true honor.
Another memorable production was when I starred in the final shows of John Copley's legendary production at the Royal Opera House back in 2015. It had been running at the ROH for over 40 years, and I got to be one of the last performers on that set. What a privilege! Other directors who have greatly influenced me in this role are Greg Keller and Louisa Müller.
The best thing about Marcello is, I can sing this role for another 20 years. So I won't be saying goodbye to Bohème anytime soon! And even then I'll take a stab at crazy ol' Benoit. Or even… Parpignol!
---
What do you think? Did you find this article interesting, entertaining, or helpful? Feel free to chime in with a comment below.