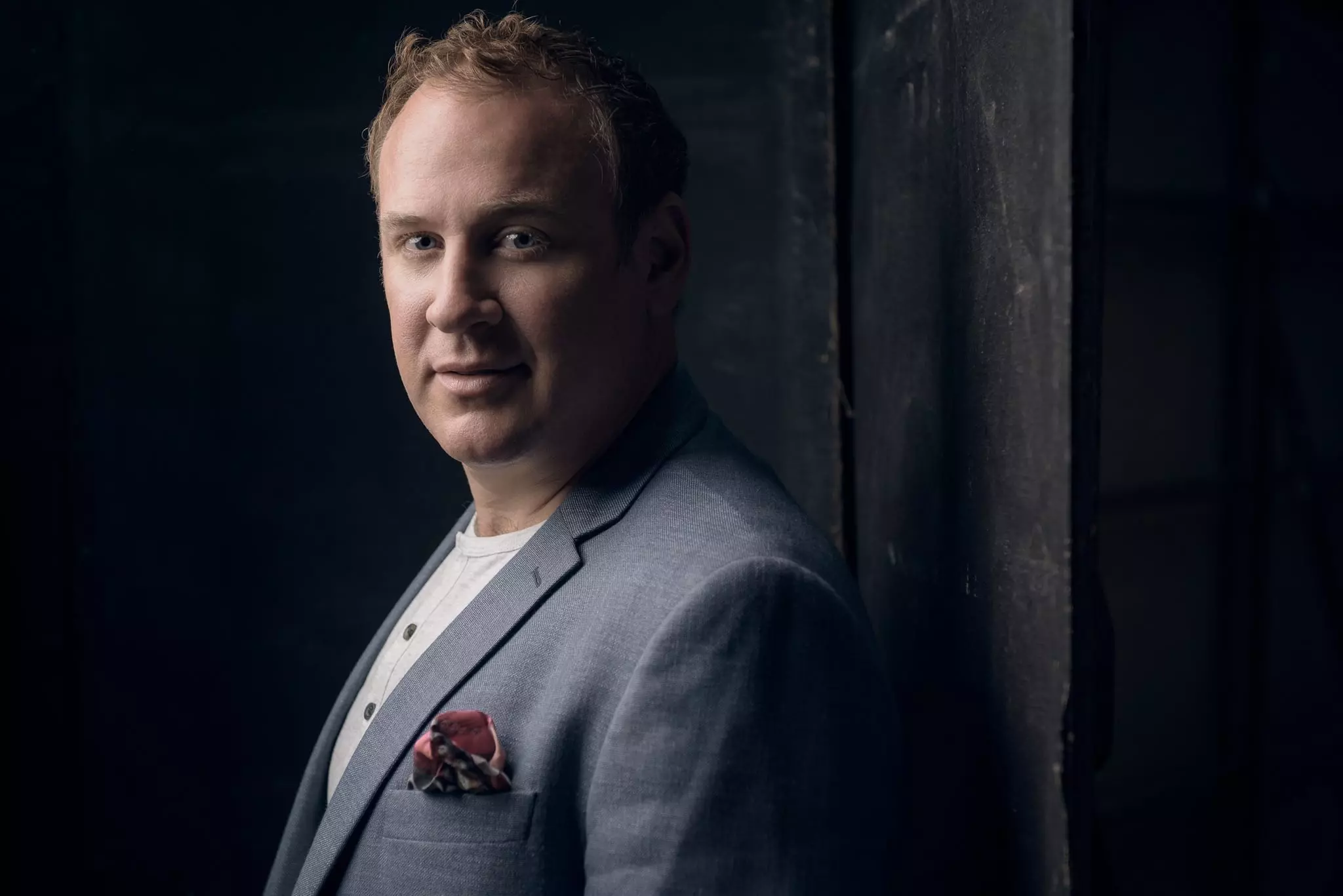 From all my years of singing, conducting masterclasses, and listening to other singers, I've noticed a prevalent mistake that affects almost all singers. And there's no judgement from my end because I was guilty of this mistake, too, early in my singing. So I'm only here to help and sympathize!
Drumroll please…
The biggest mistake most young opera singers make is… not singing in a forward position.
Why is this important? The whole point of singing opera is to be heard by thousands of people who are hundreds of feet away, without a microphone. Forward placement focuses the sound outwards and allows for the best projection. It creates what's called "ping" and it travels farther than any other sound. When a singer creates their sound in the back of their throat, it has the opposite effect: an artificial, over-darkened, and covered sound that doesn't project.
There are three reasons why singers do this:
1. They listen to themselves sing.
When singers do this, it's not an accurate assessment of their singing.
When you listen to yourself and judge the sound that's in your own head, that normally means your sound isn't projecting to the public. A singer thinks, "damn, that's a pretty-ass sound." It may very well be a pretty-ass sound, but no one sitting at the back of the auditorium will hear it. It's not as present in the hall as they think it is. You can only achieve a true projected sound with forward placement.
Listening to yourself sing is a hard habit to break. It's important to nip it in the bud as early as possible. The way to counter this is to memorize the feeling and position of a forward-placed sound, rather than relying on your ears.
2. Singers don't use enough nasal resonance.
I'm not asking anyone to sing like Gilbert Gottfried, but the goal is to think of your voice more like a laser beam, rather than a wall of sound. To do this, you need to channel the right amount of nasal resonance.
I'll break it down for you. There are three main resonators when it comes to singing: oral, pharyngeal, and nasal. Many singers use only two of the three resonators, and they miss out on their maximum resonance. The most underused resonator is the nasal one—the resonator that produces the most forward sound!
Overall, singers need a balance of all three. They're not all equal thirds, but you need to find what works for you, for each vowel, and for each pitch. This is how you'll find the perfect balance between a light and dark sound—chiaroscuro.
3. Singers intentionally over-darken their sound to imitate a big sound or another singer.
I'd say this is the most damaging technique to a singer's sound because each singer needs to have what I call, a "vocal fingerprint."
The only way to find this is for singers to stop listening to themselves as they sing and place their sound in, you guessed it, a forward position! Over time, the singer's true timbre will show and they will achieve their utmost projecting potential.
Think of it as having a hose and trying to water something twenty feet away. Gravity naturally pulls the water down into a thick stream as it comes out of the hose. If you place your thumb on the opening of the hose, (access your nasal cavity) the water sprays out across a larger space and lasers out. That's what a forward placement will do to a singer's sound!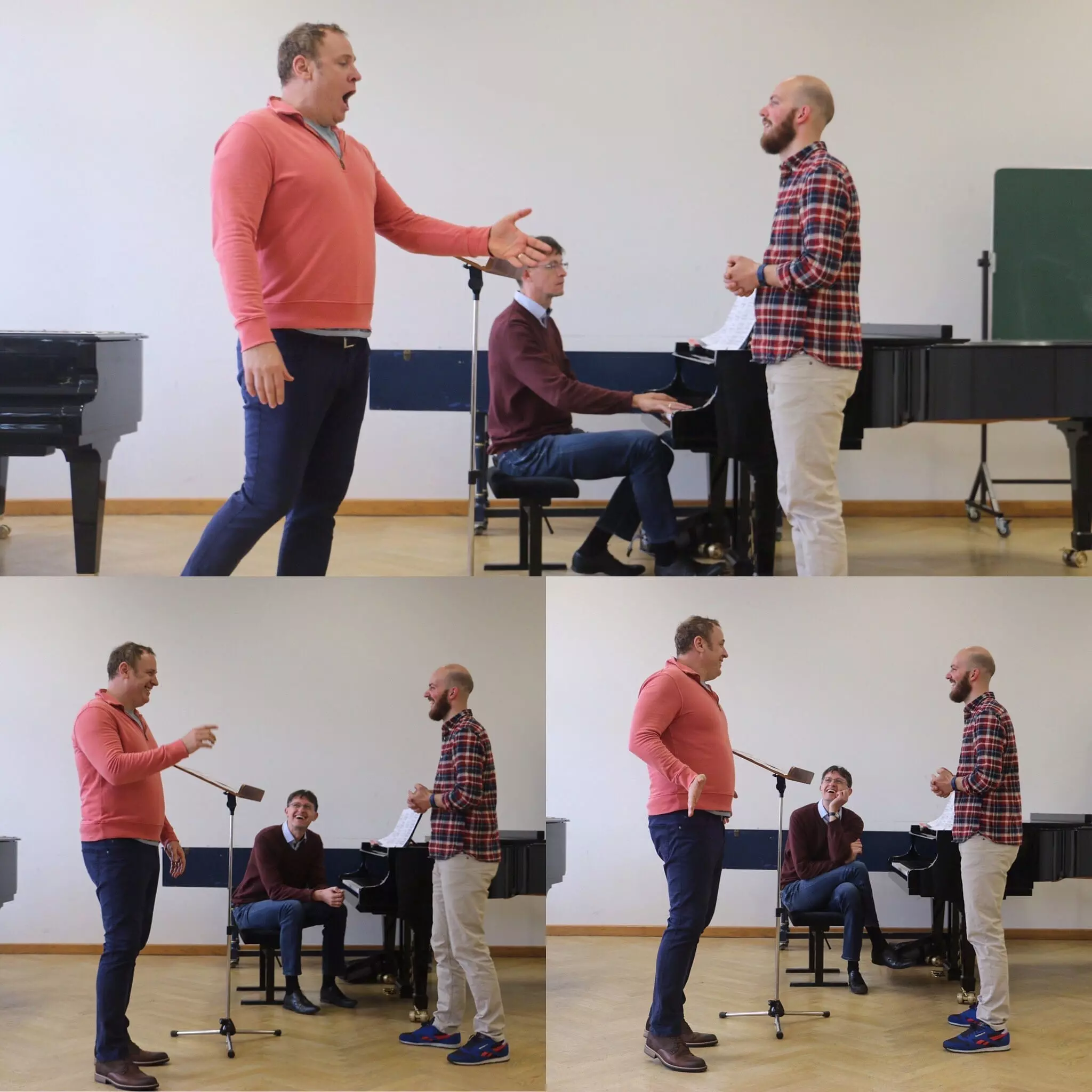 Forward But Not Too Forward
Yes, there is such thing as singing too forward. Though, honestly, singing forward is a much better problem to have than singing with a covered, dark sound. It's easier to take an overly forward sound and add backspace than it is to add forward placement to a dark sound.
As in, it's easier to fill in a hole than to dig one.
When I was in college, I was guilty of singing in an overly forward place. The plus side of this kind of singing was that I could always be heard. The downside was that it sacrificed my timbre: it was too bright. Yet it was my true timbre because I was only 22 years old and my voice was still developing. My sound had a tenor-like quality, and even today it tends to creep in when I'm performing. My voice has darkened with age instead of utilizing a false placement to create a darkened sound.
When I sang in that overly-forward place, my volume was pretty impressive but it was just from pointing my sound forward. Some singers try to make the mistake of trying to create a larger sound by pushing more air over the vocal cords. When really, it's about how you utilize and place that air. More on this later…
It sounds big in their head, but this approach only achieves the opposite: their sound is less present in a hall.
Listen, I don't blame young singers for this—I blame small rehearsal spaces and lack of opportunities to sing on a large stage. In a small rehearsal room, singers are just a few feet away and everyone sounds pretty resonant. Take that same singer onto the stage where they need to project to the back row of a massive hall, and the sound just doesn't cut it. So, be aware that the space you're singing in might be working against you.
A voice lesson or coaching in a performance hall would really benefit a young singer from time to time.
How Do I Achieve My Best Forward Placement?
Most people naturally speak in a forward position. So this means, sing where you speak—si canta come si parla.
In my masterclasses, the first thing I tell a singer with forward-placement issues is to simply say, "ah". It's amazing how some singers have trouble getting back to the simplicity of a pure "ah" sound in their speaking voice. It's super basic but fundamental to singing. If I hear a "woofy", or covered "ah" from a singer, I help them to find their true "ah" (a good little trick is to stick out your finger and sing to it, or pick a singular point in the hall and do the same).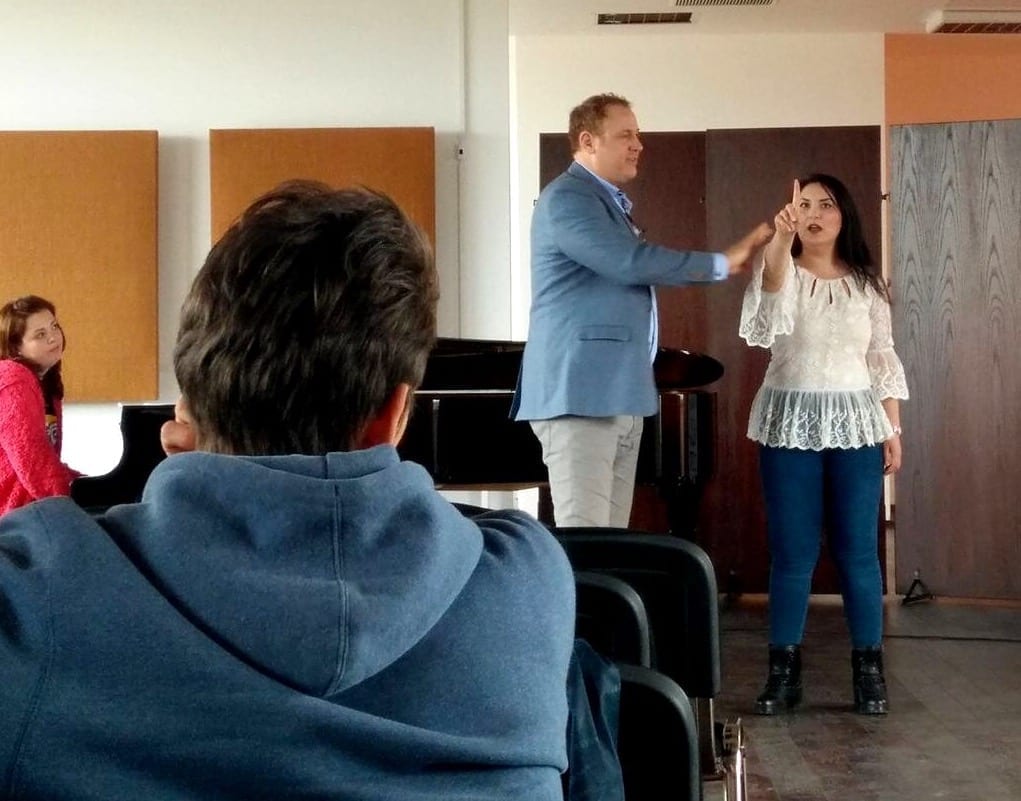 Another important thing is air usage. Rather than pushing the air, place the air into the nasal cavity while allowing it to resonate in the pharyngeal space. Boom.
The Most Important Lesson
When I was a student at Eastman, I was listening to a lot of Sherrill Milnes, Hermann Prey, and other older baritones, and I thought they sounded like beasts. They had beautiful voices with high extensions but with a deeply mature sound. I would go into my lesson to sing my German lieder and after I sang, my teacher John Maloy told me it was perfect.
I was a little fed up and said, "But I don't sound like Bryn Terfel, Dmitri Hvorostovsky, or Thomas Hampson. I sound like a pip-squeak!"
My teacher said, "Lucas, you are a perfect 24-year-old singer. If you try to sound like them now, when you turn the age that they are in those recordings, you're not going to have a career because you created a darker timbre rather than trusting your true timbre. Allow the dark timbre to naturally come into your voice with age."
This is a hard thing to ask of a young baritone because that change doesn't come until their 30s or even 40s. So until then, all you can do is sing appropriate repertoire. Mozart, art songs, light French, etc. The important thing is to choose roles wisely during those crucial years.
Another important factor to keep in mind is to never sacrifice your vocal timbre for the timbre you think a role should have.
Guys, I'm still dealing with this today. I'm starting to sing Verdi now and I have this preconceived notion that my sound needs to be more robust. I have to check myself and snap out of that dangerous kind of thinking and singing: I need to sing Verdi the same way I sing Mozart or bel canto—light and bright! There is no huge vocal change between repertoire.
This just means that every singer, no matter what level, still has more to learn. Even today in my career, I have to remind myself there is never a finish line when it comes to singing and there is always more to improve upon.
And now for…
Two Non-Technique Related Mistakes That Young Opera Singers Make:
1. Finding the balance in their acting.
Some singers are willing to strip their clothes off and run around naked just to prove they're in character, and other singers just stand and sing with no meaning or passion. Always sing with your heart and mean the text. When in doubt, know that less is always more.
2. There is no fast-track to a career.
I cannot emphasize this point enough: there is no way to accelerate your vocal development. At the end of the day, it takes as long as it takes. There is no secret recipe or shortcut.
All in all, even if you have perfect diction, speak the language fluently, have highlighted all your dynamics, and are so well acquainted with the composer that you know what he ate for breakfast every morning in 1875, none of that matters if you can't be heard. Being heard precedes all things in opera. So sing forward and go forward with your career in opera!
---
What do you think? Did you find this article interesting, entertaining, or helpful? Feel free to chime in with a comment below.