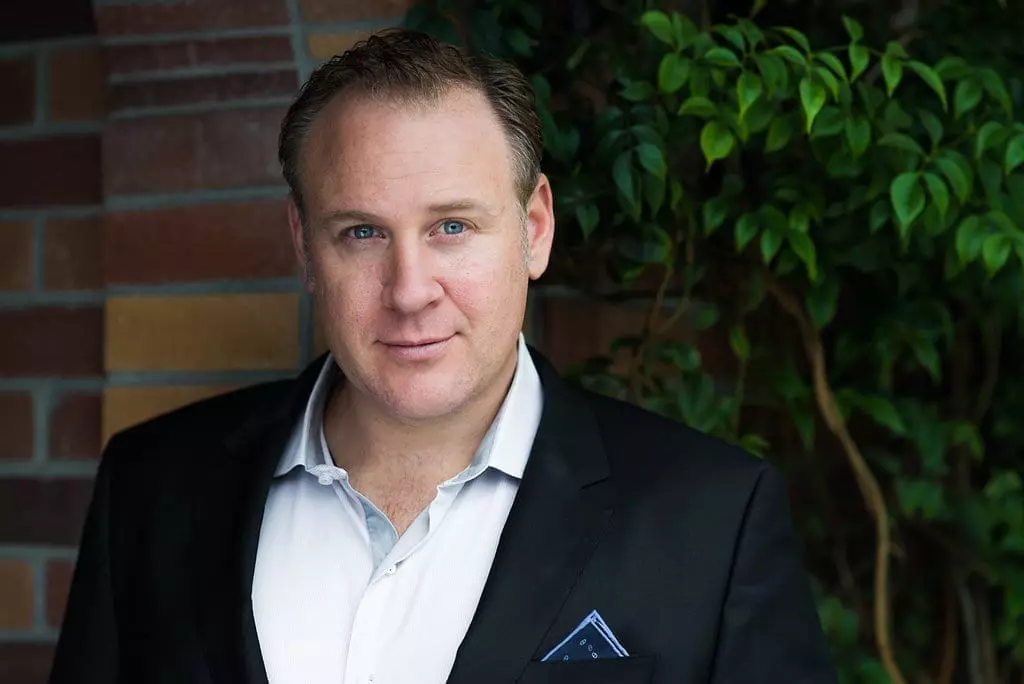 The years an opera singer spends as a Young Artist are special ones. This is the bridge between school and the professional world and a time to start showing what you're made of.
You're told to sing well, show up on time, learn your music, act professional, etc., but there's another important task for you to do that isn't as obvious.
So, let's get to it…
The biggest mistake Young Artists make is not talking to guest artists.
These are the artists who come to town for a production for 1-2 months and are out there doing what Young Artists want to hopefully do, too. There's a possibility for some solid learning from these artists as well as network building.
By approaching guest artists, it takes you from being the cover in the corner to becoming a real person to them. They won't know who you are if you've never made an effort to be known. The goal is to be known.
You want people to know and like you, and as a Young Artist, introducing yourself to guest artists is the first step towards achieving that. Getting known could lead to new opportunities, connections, learning experiences, or actual friendships. The possibilities are endless.
Keeping to yourself won't help you build connections, get a job, or start a reputation for yourself. As a budding Young Artist, it's time for you to start your momentum, build rapport and make a name for yourself. No matter how talented you are.
Now, let's discuss the finer details.
Stand Up, Stand Out
First day of rehearsal, introduce yourself to the guests artists one by one, EVEN if there was a meet and greet (that's actually the perfect occasion to do this). Shake their hand, and say you're very happy to work with them (only if it's true!).
If you've seen them perform or enjoyed a recording, video, or post of theirs, mention that to them (most singers can't resist a specific compliment like that) and it could be your conversation starter.
Introduce yourself to all the guest singers, coaches, directors, and conductors. If the opportunity doesn't present itself in the meet and greet, try at the first rehearsal when they aren't busy.
If the guest artist seems friendly and open, start up a conversation about the show, the company, the town you're in, the food they're serving, or any other mutual topic to break the ice.
A solid reason for not approaching guest artists is because some people tend to be shy when it comes to these things. I have just the trick for that.
Asking is Learning
Challenge yourself and make this a rule for yourself.
If you're too shy to approach the guest artists, try observing them in rehearsals and find what that person does best (coloratura, recits, acting, following the conductor, etc.).
Then, ask them one question about that. Just one. No more.
Here are some example questions:
"Where do you come up with your ornamentation?"
"What do you think when you sing that high note?"
"How do you keep your character fresh?"
"How do you sing downstage when the director asks you to face upstage?"
This tactic will help generate a rapport and deeper layer of conversation with the singer, and they'll remember you that much more. Plus, you'll be talking about what you both love: music!
In another way, it will remind them of themselves because everyone was once a Young Artist. Everyone started somewhere.
Though it is extremely rare, the worst thing that can happen is they'll not help or tell you off. Few professional singers are that rude. In this business, I don't meet many people like that.
On your end, your responsibility is to pick your moment. You can't go up to them right before they sing their big aria to talk to them. Wait until a break or when everyone is waiting around, and then ask them the question in a kind way. If they're too busy, they'll let you know.
Start with singers who share your voice type. They have the most in common with you and it makes sense for a young tenor to speak with the more experienced tenor. Moments like these are the building blocks for people getting to know you.
You could even invite them out for coffee, but keep it professional. They might turn you down but if you do it in a kind way and keep it professional (i.e. mention that you have a few questions about the business), it could be a highly useful hour for the both of you. And who knows, it will probably be fun!!
If you are really impressed by a certain singer, ask your YAP director if they could schedule a master class or private lessons with the Young Artists. That way you could really benefit from their presence. Again, the worst thing that can happen is they say no.
DISCLAIMER: When getting to know guest artists, don't put yourself on the same level as them and don't go too far by being highly subservient, either. There's a sweet spot somewhere in the middle. When talking with them, it's an opportunity, not a time to question what they do but instead be curious and open-minded, without judgment.
Yes, there is such a thing as a stupid question so instead of a question about an Italian diction rule, make it slightly more advanced and ask about a diction exception instead. Don't ask just for the point of asking, make it count!
My Take
Many of the Young Artists who've approached me in this way along the years have made a lasting impact. Some of them have actually become my friends! For instance, this young tenor Robert Watson asked me an interesting singing question and then for a voice lesson. We hit it off and he and I are good friends to this day. He is very talented and such a good person. This is just one example of what could happen when putting yourself out there. I'm always grateful for him being so confident in that way.
We're not all going to find friendships in this way but just being known is significant. Other Young Artists who have approached me over the years and I've actually stayed in touch with are Michael Hewitt, Levy Strauss, and René Barbera.
My Young Artist Years
When my wide-eyed self first hit the YAP scene at San Francisco Opera, I had a lot of experiences thrown at me quickly, and it was my job to seize them.
My biggest break happened because I knew somebody in the business who recommended me for an amazing opportunity at the right time. This person was a professional opera singer who was singing in a production I was covering as a Young Artist. I approached them in rehearsals, they heard me sing, remembered my friendliness, and ended up recommending me down the road.
This person ended up being a groomsman at my wedding and is one of my best friends to this day. It's crazy how the biggest break of my career wouldn't have happened if I hadn't made the effort to get to know him. (PS it's Paul Groves).
On the flip side, I've worked with Plácido Domingo numerous times. I've been double-cast with him, covered him, and sung under his baton. I saw him the other day at the Met, and I couldn't get myself to ask him for a picture. Can you imagine?! Still! I just thought it was too much.
Yet I still made the effort of approaching him. I went up to him, reminded him who I was (in case he understandably forgot), and shook his hand. He remembered me. I was happily surprised!
Point is, I made that connection. Not for any other reason than I respect him as an artist. I don't need anything from him. It was a genuine interaction.
It's actually peculiar to me when a young baritone crosses paths with me and doesn't approach me. I have time to kill in 3 weeks of rehearsals and I'm sure there's a question I could answer about the business because I've been there too, so when they don't approach me, I see a missed opportunity.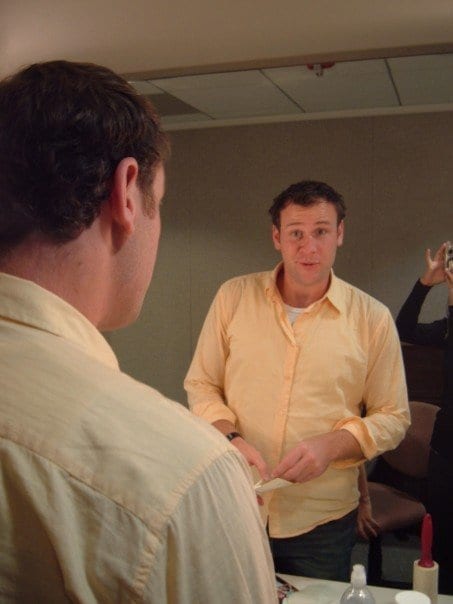 Conductors and Directors
These two are a bit trickier since you spend less time around them yet they're potentially highly influential in the business. So how do you make a lasting impression in such a short amount of time?
Introduce yourself the first day and say that you're happy to work with them. As rehearsals progress, comments like, "I'm really enjoying your music-making," or "it's a pleasure to work with you" go pretty far. As long as they're genuine.
When you see them in the hallways before a performance, always say, "toi, toi, toi". You're a legit member of the show and the company so act like it.
And say goodbye to them at the end of the run with something like, "I've learned so much from watching you," or "I hope to work with you again one day", etc. I see a lot of hand-written notes which is always nice and memorable, but face-to-face interaction is just as (or even more) meaningful.
Bred From the Same Thread
Just because you've heard of a singer before and they haven't heard of you, doesn't mean that they're not nice. They've been in the same boat you're in and there's a lot to gain from someone with more experience in your own field.
Networking and connections are all great but it's also about sharing experiences and building relationships over time in this very competitive field.
Nobody started out as a star. They were once you.
Let that put things into perspective for you the next time a new guest artist arrives at your YAP.
---
What do you think? Did you find this article interesting, entertaining, or helpful? Feel free to chime in with a comment below.