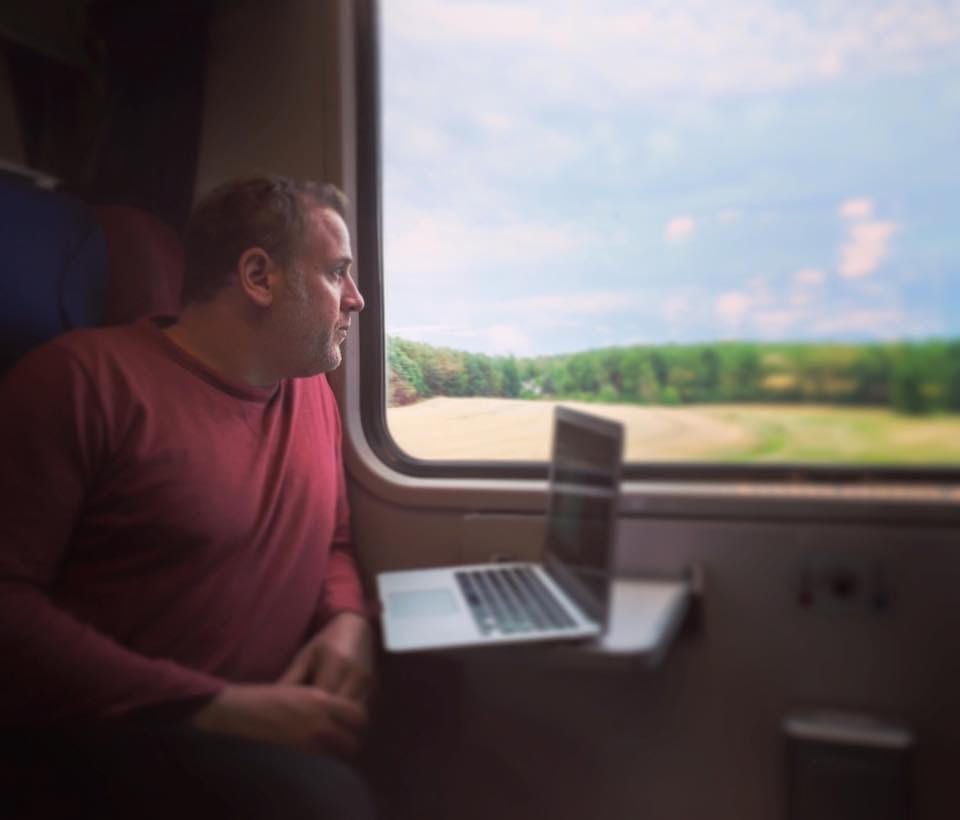 As I start to pack my bags for my next trip, I am reminded of the cold hard truth of being an opera singer: traveling sucks.
Yes, it's adventurous, daring, exciting, unknowing, but the excitement dies after hundreds of trips and it becomes routine. Yet there are other aspects of a life on the road as an opera singer that are truly exceptional and unique and make us forget about petty security lines and tight airplane seats. Here are a few truisms about life on the road that I learned through blood, sweat, and high notes.
1. Airports Suck
We all know it. Slow pokes in the security line, dirty bathrooms, TSA's arbitrary solid vs liquid rules, luggage fees, etc., I'm getting an ulcer just thinking about it! Over time, my enjoyment of traveling has significantly decreased because of the headache of airports.
What helps me get my Qi on are the people who work at airports. They've had long days, too, so I make sure to tip extra, give a friendly smile, or say thank you. It changes my entire experience entirely. After all, you get more bees with honey.
2. You Spend A Lot Of Time Thinking About Your Clothes
Luggage size determines a lot of what I buy. Anything that I purchase while on the job has to fit into two 50lb suitcases to get me back home so that already limits me. I still own all of the things most people do but when I travel I can only fit so much.
Packing for different temperatures can be tricky, too, especially when flying from Oslo to Bangkok. I end up thinking a lot about what I'm going to wear one random day within the next 5 weeks and at times it's a head-spin. Trust me, not having raingear in London sucks.
3. You Are Able To Foster Relationships
On the road, you meet new people constantly and you reconnect with friends wherever you go.
At this point in my career, I always know one person in the cast of my show and I have friends all over the world. It may seem hard to stay connected, but my community is vast. When it comes to romantic relationships, we are all different. Some couples figure out how to stay strong in a long-distance relationship, others prefer to travel together, or stay single and ready to mingle.
I am lucky enough that my wife is a pianist and we have the option of traveling together. For me, having her by my side gives me so much joy and fulfillment and it's very hard for me to be away from her. To each their own, but it's definitely possible and doable to be a gypsy in love.
4. Getting To Know The Locals
Something unique about opera singers compared to other businesspeople who travel for a living is that we stay in one place between 1 week and 3 months, with an average of 1 month and a half. During those weeks, I get to experience a destination as a local. I find the less touristic spots and begin to see recurring faces. Sometimes those faces become friends and I step into the world of a local rather than a stranger.
5. Grocery Shopping Is Hard and Eating Out is Easy
One's routine when traveling is never the same and for me, this mostly affects eating and working out.
Arriving in a new place, I want to experience what's in town and I start the adventure with some good restaurants. It takes a while to settle in and to start cooking so there are a few days of eating out. Finding a good gym is especially hard, so if my hotel or rental apartment doesn't have one it can be a hassle searching for the best deal. During those days my routine is so out of whack I easily slip into a small pit of unhealthiness.
6. Different Cultures Impact Your Routine and Lifestyle
Each city is so unique and the general pace of life changes my lifestyle to its core. For instance, when I'm in Spain rehearsals rarely start on time and I eat dinner around midnight like the locals.
Other times, you live in a downtown area where everything closes early. For example, after 6 p.m. in the downtown district of Oslo, it feels like you are living in a zombie apocalypse and you have to fend for yourself.
7. Nearly Every Trip, There's a Tipping Point
During every gig, there's always a moment where you just can't stand to be where you are anymore. The prospect of leaving becomes more enticing than the prospect of discovering more where you are. This feeling can occur as early as the first day of rehearsals or as late as the taxi ride to the airport on your way to the next gig.  My favorite gigs are when that moment comes late in the game but it does always happen that way.
This is where it gets dangerous. With a life constantly on the move, it's hard to live in the present. If the present isn't particularly pleasant or you miss home, time can easily slip away and many of your experiences just become a blur.
8. You'll Have an Abundance of Alone Time
Sometimes, when you're always on the road you get lonely. This can quickly go sweet or sour. Firstly, you are able to immerse yourself into your work because there's only so many museums, parks, cafes you can sit at. Secondly, you confront yourself with yourself and there is no escaping it.
You have to enjoy your own company. It's an important life lesson to learn and not everyone get the opportunity like us travelers.
9. The Places You See Are Incredible
Being from small town North Carolina, I didn't leave the country until I was 26 years old. In 2015 alone, I traveled to 14 countries.
For example, I was once asked to show up at the Louvre at 6:30 p.m. after the museum had closed. The director of the Louvre met me and six of my friends for a private tour. We went through the highlights of the museum. I got the Mona Lisa all to myself. Then, the director pressed a hidden panel on a wall and a secret door opened up to a stone corridor and spiral staircase–the same staircase that Louis 18th had to be carried up from the dining room to his bed chambers to die. The staircase led us to the roof of the Louvre where I saw the most incredible views of Paris that only a few people get to experience.
North Carolina, eat your heart out!
10. The Process of Getting to Know Yourself is More Involved than for Someone Who Doesn't Travel
As a constant traveler, you find out who you are in a unique way. You're out there, a stranger in a strange land for the hundredth time, and you are tested in exciting ways that you wouldn't ever have encountered by staying home.
I learned to speak German on my first trip to Stuttgart and I wouldn't have ever challenged myself like that if I had never left North Carolina. I never knew how much the language interested me and while in Germany I pushed myself so I could fit in and enrich my interests that way. I lost my inhibitions countless times while on the road and the process of self-discovery and introspection is thrilling that way.
More than any other aspect of singing, the traveling lifestyle is the most common reason for quitting an opera career. The hardest thing about traveling so much is the inconsistency. You have to be ready to assimilate in a new place every few weeks… and that's not everyone's cup of tea. I don't complain about it much because the gratification I get from performing supersedes the chaos. (Plus I have a serious case of wanderlust in my heart!)
At the end of the day, I get a lot of confidence knowing that I can fit into any environment. It also helps me appreciate people who don't speak English as a first language. I know what it's like to not speak the local language. It makes me sympathize with people who are different than me. Because when I travel abroad, I'm the different one.
P.S. Want to know my #1 tip for flying? Tip those who work in airports. Tip the stewardess $5 on your first drink and you'll drink for free the rest of the trip. Tip the porter $10 if your bag is a little overweight if you don't want to be overcharged when you arrive at the airport–he'll take care of you.